The third edition of Summer School 2017 "Visual Ethnography of Cityscapes", being organized by the Athens Ethnographic Film Festival – Ethnofest and the Netherlands Institute at Athens, is now officially over!
Twenty nine young researchers, students and visual artists from all over the world got together in Athens, while bringing along their different and colourful backgrounds from human and social studies and their mutual interest in visual anthropology. They attended lectures and courses, they participated actively in workshops, they clustered in research groups and created their own documentaries, approaching the city of Athens through an ethnographic lens. A selection of these films will be screened at the 8th Athens Ethnographic Film Festival – Ethnofest, which will take place at the end of November.
The participants had the opportunity to attend an intensive introduction to the theory of visual anthropology and to get in touch with the methodology and practices of ethnographic cinema. This year's program was particularly rich, including:
Two courses with Metje Postma on Observational Cinema.
Two courses with Mark Westmoreland on the researcher's approach through the lens of a camera and the complex ethnography that's being formed within the relationship of text/sound/image.
A lecture held by Philip Cartelli from Sensory Ethnography Lab entitled "Sensing the City"
Two walking tours in the city: a walking "homage" to graffiti as an authorized and self-authorized form of intervention in the cityscape, curated by Pafsanias Karathanasis and a walk with the theme of urban space and gentrification, curated by Nicolas Karachalis.
Lectures in the history of Athens (with Niki Maroniti), the visual representations of the crisis (with Dimitris Dalakoglou and Carlos Loperena), the urban uprisings (with Rania Astrinaki), the relationships between anthropology and photography (with Konstantinos Kalantzis), the uses of classical antiquity on modernity (with Eleanna Yalouri) and the important role of the sound in ethnography (with Panos Panopoulos).
Two courses with Konstantinos Aivaliotis on the history of ethnographic cinema.
A lecture by Christos Varvantakis and Konstantinos Aivaliotis on the Athens Ethnographic Film Festival-Ethnofest and how it's being organized/structured
Workshops on the use of technical equipment and the production of ethnographic films
Multiple meetings and guidance of the groups through all the stages of research and film production (with Silas Michalakas and Tryfon Babilis)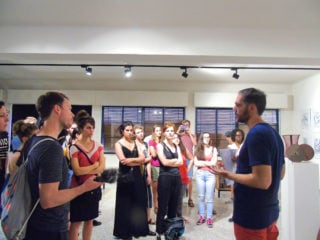 *Summer School will be back soon!